Innovative Solutions are in our DNA
We invest  a lot of time and money in  research and development simply because we want to fully understand every aspect of our product; from choosing the best timber to the most reliable coatings as well as optimising performance including acoustic properties. We also invest a lot of time working with our suppliers to encourage them to continually improve their products to ensure we are always using the best materials available. We have always led the way in developing innovative fenestration solutions. From our involvement in the establishment of the first British Standard (BS644) in the 1930s to our involvement with the BRE  as well as many other pan-European research projects  today, there are few people in the industry with more knowledge. What this means for our customers is that we are able to offer products that have industry beating performance whilst retaining their aesthetic appeal at a price that is affordable because we don't need to over-engineer our solutions. Our dedicated onsite R&D centre is equipped with a range of equipment including a weather test rig, salt spray tester chamber, IGU monitoring facade, coating weathering station and installation detail openings.
"It has been a challenge to keep up with the innovation within the business and this has encouraged SafeGuard to push the boundaries ourselves in terms of new product development." Nick Welsh, Managing Director, Safeguard (Glazing supplier to George Barnsdale)
Read more about our involvement in research here
Visit our blog to read our Managing Director's views on the importance of research and development here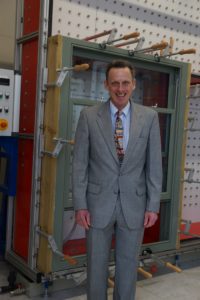 Our Chairman Stephen Wright opening RD Test Centre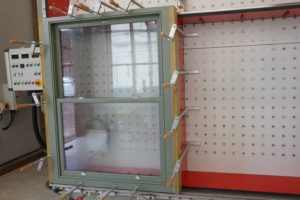 Our on-site R&D centre weather test rig
Ironmongery being salt spray tested in our onsite R&D centre
Our guarantees
Our industry leading manufacturer backed guarantees ensure that our windows and doors will last for many years.
Let's get started...
Whether you are looking for information or doing some serious research for your window replacement project, getting in touch is always the first step. Here's a few suggestions to get you started...
Download our brochure
Take our comprehensive range of timber windows and doors away with you.
Download brochure
Complete our enquiry form
Fill in a few details about yourself and we'll get straight back to you.
Complete enquiry form
Or simply get in touch
Our friendly and professional sales team are here to answer your questions.