Stormproof Casement Windows
Our timber stormproof casement windows are designed to ensure they not only look great but also stand up to the toughest conditions and provide the maximum performance whatever the weather.
Stormproof casements differ from the flush version as the window, or sash, sits proud of the frame to ensure additional protection against the elements. The design of our timber stormproof casement windows helps to retain the internal warmth, whilst excluding external noise and moisture.
At George Barnsdale we use a variety of sustainably sourced timbers to ensure our stormproof windows are environmentally friendly as well as performing at highest ratings to ensure energy efficiency and again provide benefit to the environment.
Our timber stormproof casement windows can be manufactured from either Grandis Hardwood, European Oak, Engineered Redwood and Accoya. All of our timber comes with the FSC mark of responsible forestry.
Timber stormproof casement windows are extremely popular in the UK and the popularity has been growing since they were introduced in the 1950's. They offer complete versatility in their design and can be adapted to suit most builds and project needs.
As you would expect from stormproof casements, our windows offer excellent weather performance. Dual weather seals create a low pressure cavity which greatly contribute to the window's outstanding performance. Their discreet positioning ensures they do not detract from the aesthetics.
In addition to their outstanding performance, high security is another key element that we strive to achieve when we manufacture our stormproof windows. Our design ensures you are receiving the highest level of protection, in fact all our casement windows are fitted with multiple locking points as standard, we can also modify the design to meet the challenging standards of PAS24/Part Q with the incorporation of security laminated glass.
The result of all this ensures that not only will your windows look great, but your home or building project will always be safe, warm and energy efficient.
Utilising our 134 years of experience of manufacturing timber products, our well thought out designs ensure that our exquisite traditional timber frames produce a stylish looking window that requires minimal maintenance and is much better for the environment than its uPVC counterparts.
Our Timber Stormproof Casement windows can be customised to suit a wide range of projects, you can adapt the size, shape and style to suit your specific needs. Our extensive choice of paint or stain finishes enables you to make simple changes to your property at ease and all our customers will benefit from our 10-year manufacturing guarantee.
Our vast experience has shown us that all our customers needs are different and we understand that a single design does not suit all. Therefore, we design timber casement windows in three different ranges. Traditional, historic and contemporary.
Learn more about stormproof casement windows with our helpful article, or alternatively read more about the difference between flush and stormproof casement windows here.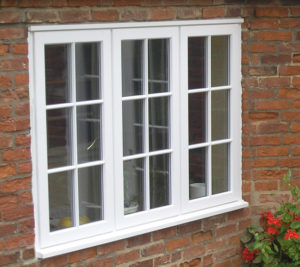 Our guarantees
Our industry leading manufacturer backed guarantees ensure that our windows and doors will last for many years.
Let's get started...
Whether you are looking for information or doing some serious research for your window replacement project, getting in touch is always the first step. Here's a few suggestions to get you started...
Download our brochure
Take our comprehensive range of timber windows and doors away with you.
Download brochure
Complete our enquiry form
Fill in a few details about yourself and we'll get straight back to you.
Complete enquiry form
Or simply get in touch
Our friendly and professional sales team are here to answer your questions.