May 19, 2022
As part of a series of blogs looking at the new building regulations going live on 15th June 2022, this blog takes a look at the requirements laid out under Part L Conservation of fuel and power. We have also created a blog on Document F ventilation and Document O (overheating).
What is Document L for?
Document L aims to make homes more energy efficient with the setting of new U-value/WER limits. The purpose of the latest changes is to help deliver the Government's Future Homes Strategy which aims to reduce carbon emissions from new builds by 30% now and by 80% by 2025. Of course, alongside the environmental implications, there are benefits to consumers faced with spiralling energy costs. There is an interesting contradiction in the new building regulations though with the launch of Document F alongside this which mandates improvements in ventilation to be achieved by things like trickle vents which are designed to be left open!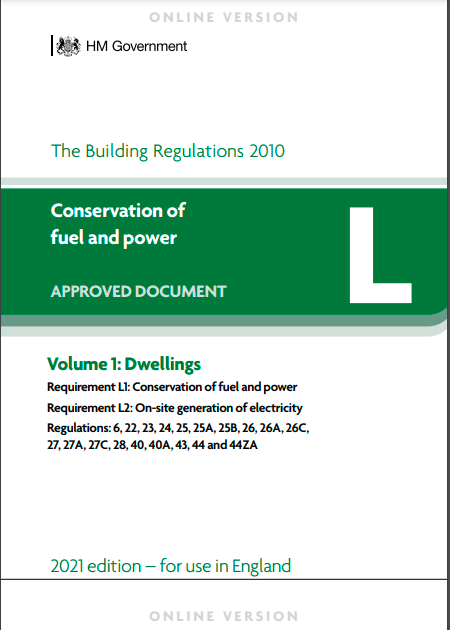 What does Document L of the building regulations require?
Essentially, any new or refurbishment work is going to have to achieve much better thermal performance. With windows and doors being one of the main areas to be impacted by the new regulations, a great deal of work is being done behind the scenes by companies like George Barnsdale to support architects and homeowners to meet the new regulations.
For the replacement of existing windows and doors, the Government is allowing 12 months extension in order to provide enough time to make the necessary changes. Currently, U-values for windows must be maximum 1.6 W/m2K and for doors 1.8W/m2K, this will remain until 14th June 2023 when U-values of 1.4 W/m2K or less will be required.
For new homes, the changes take effect in less than a month's time (15th June 2022). This is going to be challenging for architects who often opt for alumiunium windows, for example, since some of these are likely to struggle to meet the new requirements. If they choose to compromise on the window performance, they will need to ensure they compensate in other areas of the building fabric. The onus is on the architect to do the sums and ensure the performance of the building meets regulations.
What are manufacturers doing to ensure their products conform to new building regulations?
As wooden window and door manufacturers, George Barnsdale's standard products have been at 1.4 W/m2K for a long time and most items meet this standard with 1.2W/m2K double glazed units so our job is a bit simpler than many window manufacturers. However, we will need to use 1.0W/m2K double glazed units more often particularly if small units with glazing bars are used. Architects may specify more triple glazing to ensure the highest performance. For doors, there will be a requirement for thicker insulation panels and this will also require thicker doors and sashes (min 68mm thick as standard for us).
What will Part L mean for homeowners and developers?
Unfortunately, higher performance equals higher costs! The requirement for more triple glazing, especially for aluminium products rather than double glazing increases the price. The extra materials required for the frames as well as the need for heavier duty hinges and hardware all make the products more expensive to produce and transport.
Designs may need to change – the vision the homeowner or architect might have may be compromised. For example, replacement windows in a traditional property or an extension that isn't listed will not be so easily replicated as the additional glazing and thicker profiles will impact on the appearance. The use of internal glazing bars will need to be reviewed since this undermines performance, likewise hardwood is less thermally efficient than softwood. Solid glazing bars also have a negative effect.
For properties that are listed or in a conservation area, there may be more wriggle room if adhering to the new standards materially changes the historic nature of the building but this should be confirmed with your local planning/building control officer. We will continue to offer options for conservation areas and listed buildings. These solutions use slim double glazed units, with krypton or argon. Due to the large price increase in krypton, people have been opting for argon. However it is worth pointing out that 1.4 would not be achievable on slim units even if krypton was used.
If you would like to discuss the changes to the building regulations, get in touch with our technical team who will be able to advise you on the best approach for your windows and doors. Architects sign up to our resource centre for access to detailed drawings and performance data.