May 5, 2015
Securing permission to make any kind of change to listed properties can be a laborious process; however it is by no means impossible.
Over the years we have worked with Conservation Officers and Architects on the replacement of timber windows in listed properties and those within a conservation area, and in this blog we will share our learnings in an attempt to provide some clarity. To do this we will look at:
Building Regulations and Conservation Law
Guidelines on replacement and repair
Sympathetic Replacement
Before we share what we have learnt over the years, it's crucial we emphasise that carrying out unauthorised works to a listed building is a criminal offence and individuals can be prosecuted.
Building Regulations and Conservation Law
Regardless of the grade, all listed buildings are covered by the same degree of statutory protection. Listed Building Consent applications relating to Grade I* will usually mean a higher level of consultation between the Planning Department, English Heritage and the Secretary of State. The majority of listed buildings fall within the Grade II category (approx. 94%) and will not require any high level consultation.
For all grades of listed buildings, the listing status covers the entire internal and external physical evidence of the property, including objects fixed to it and curtilage buildings or other structures.
For the replacement of timber windows we strongly recommend that you check with your local authority Conservation Officer to see if consent will be needed for your planned works. By checking with your local Conservation Officer in the early stages of your renovation means that you will have an outline of what will be acceptable to them and how your aspirations fit with this.
When you are ready to apply for planning permission we recommend that you visit the planning portal – for listed properties or planning portal – for conservation areas
* Grade I: These are buildings of exceptional special interest, although they are not necessarily the most 'splendid' or prestigious. Grade I listed buildings make up approximately 1.4% of listed buildings nationwide.
** Grade II: These are high quality buildings, mostly unaltered, and often with an interior of special interest. Nationwide, these comprise 4.1% of all listed buildings.
What choice you have regarding replacing or repairing
You will find that Conservation Officers and public bodies such as Historic England (officially the Historic Buildings and Monuments Commission for England)tend to have a preference for repair to protect the appearance of the façade and maintain the character of the building. However, this does not mean that consent for replacement is impossible. On the contrary, we are finding that more Conservation Officers want to work with the owners of listed properties to jointly solve problems, and ensure that the property is fit for purpose whilst remaining authentic to preserve the character of the building.
Advice on repair and replacement is provided by Historic England who have produced a document detailing Conservation Principles, Policies and Guidance. Within this document, when it comes to features such as windows they have taken the stance that "repair is preferable to replacement". However, they do outline that the cause of the problem should be fully understood before repair is carried out, because ineffective repair can be detrimental in the long-term.
If the windows need replacing, then you should piece together a plan that is sympathetic to the buildings heritage by using original materials, designs that accurately match existing detailing and physical properties.
Sympathetic Replacement
As authenticity is key from a planning perspective, in the design of the George Barnsdale Historic Range methods and techniques have been developed to closely replicate the aesthetics and the production methods of the original windows.
Putty is used to replicate the traditional look of older windows; this can be painted to match the colour of the windows.
Single glazing or slim fit double glazing can be used with machine or hand drawn glass to preserve traditional manufacturing methods and mimic the optics of older windows.
Internal sash profiles can be matched to any existing detail to preserve character; these can also be matched on the structural bars.
V-Groves can be removed to provide both the frame and sash with the flat finish often found in Listed Properties.
In addition to this authentic hardware to ensure a precise and sympathetic match to the existing windows.
The images below highlight the aesthetic detailing of the external putty system (right) compared with our standard internally beaded system (left).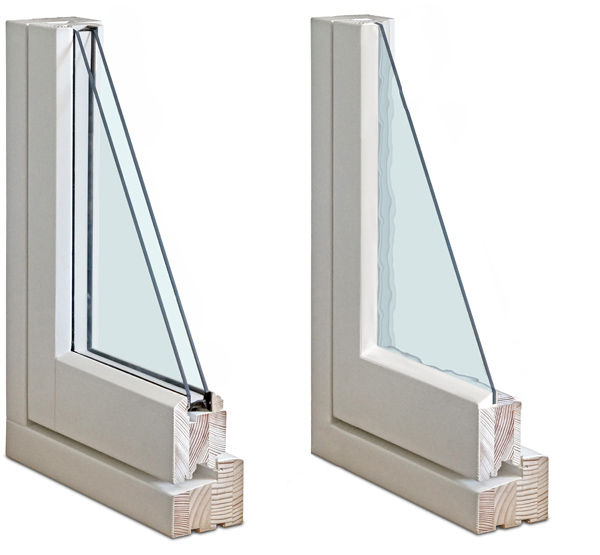 Glazing techniques such as machine and hand drawn glass have been produced with traditional manufacturing methods to mimic the optics of older windows. The images below highlight the restoration authenticity of both machine and hand drawn glass when compared with modern float glass.
 As you can see the optical quality of the machine and hand drawn glass is sympathetic to older methods of glass making. You can still obtain good thermal performance through incorporating either hand drawn or machine drawn glass in narrow double glazed units.
To see some examples of previous projects we have been involved with, view our Project Types page which will give you examples of a few of our recent Retained Facades, Commercial Developments and Residential Developments projects that we have undertaken.