October 14, 2021
"We must recognise the importance of timber in overcoming our climate challenge," David Warburton MP wrote to his fellow MPs recently. On paper, politicians are making the right noises having enshrined into law a commitment to reduce carbon emissions by 78% v 1990 levels. The MP for Somerton and Frome goes on to predict that we will move from a "20th century built environment comprising concrete and steel to a 21st century that lives in harmony with nature".
So what will this look like? Would a timber window look right in a minimalist project, so beloved of modernist architects?
It could do, people are increasingly incorporating timber into contemporary designs, combining modern Passivhaus standards with sustainable carbon reducing materials. A great example is Hackbridge Passivhaus Plus Primary school which is described as a modernist log cabin. Using modern machined timbers that are sleek and modern unlike the rustic timber frames of the past. Engineered timber is much less likely to twist and warp meaning symmetry and form are easier to achieve than was the case with old timber buildings.
As timber window manufacturers, the increased use of timber in the built environment is heartening, but we still regularly face questions about the durability of timber windows and doors. This is a hangover from the poorly made, cheap wood windows used in low cost housing of the 60s and 70s which gave timber a bad name, ably fuelled by the strong marketing messages of the uPVC market! In fact, modern engineered timber windows are scientifically proven to last 65 years or more with minimal maintenance if made to approved standards. However, there is a role that architects can play in ensuring they last way longer than this.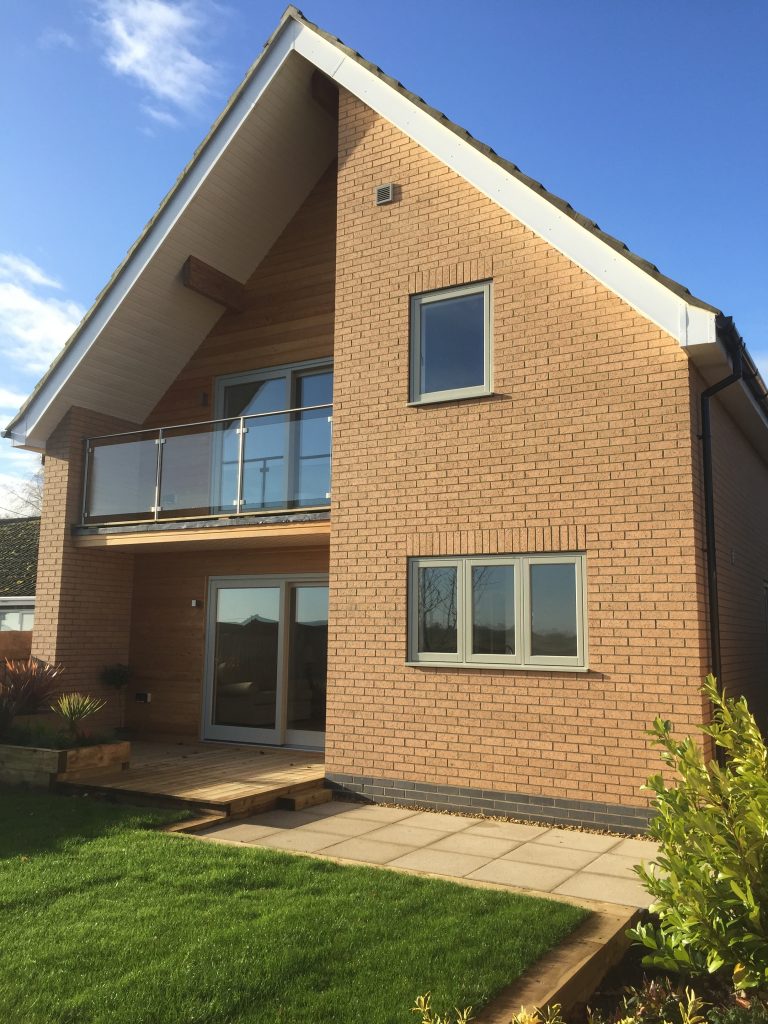 The modernist styles of buildings incorporating flush windows and flat roofs is far from ideal when it comes to protecting buildings in a four season temperate climate with wide variation in rainfall and temperature. Water ingress is responsible for a high percentage of claims against architects. The technology developed in modernist design would have impressed architects of the late 19th century, but they would be surprised at the abandonment of precedent in vernacular design and detailing gleaned over centuries of trial and error.
So, If a timber window company designed buildings, what would they specify? Stephen Wright, Chairman of George Barnsdale explains:
"Where possible, the simple answer is protecting the building from rain and harsh sunlight. From the foundations up, the act of displacing water away from the building helps to prevent damp, extends the life of windows and protects the walls of the building too. For instance, overhanging eaves are great for helping to control temperature inside the building as long as you can avoid cold bridging"
Whilst traditional details may be at odds with the clean lines of modern building projects, there are lots of ways of achieving the same result using contemporary architectural language and design elements. Peter Barber Architects have mastered the art of combining a British vernacular with the demands of contemporary architecture.
What about the positioning of the windows?
"Ideally, set the windows back in the reveal – this helps to protect them further from adverse weather. This doesn't have to look traditional though. The Orsi Kaneh building in Iran is a great example of how a timber building can be optimised to deal with extreme weather whilst retaining a contemporary feel."
" We would also try to set the windows on stone, tile or aluminium and avoid extended cills – much of the damage that occurs to windows starts on the cills and in the bottom joints where water sits and eventually moves up the grain of the timber if they aren't made correctly. Whilst modern engineered window incorporate precision joints, end grain sealing and modern breathable coatings, sitting them on stone would help preserve them even further and reduce maintenance. Of course, there are considerations around the sourcing of the right sustainable materials.
And doors?
In order to satisfy Part M of the building regulations (accessibility), there is a tendency to create a contradiction in the need for level thresholds and the demands of a sustainable future. There are details that can be used but many architects have a habitual cognitive bias against timber in favour of aluminium due to the outdated perceptions of timber. There are gains to be made environmentally by going for timber doors which are usually more competitively priced too. If tweaks to the design could be made like setting the door back from the edge of the building envelope it would make a difference to longevity.
Stephen Wright continues "building regulations requiring level access alongside high weather and thermal performance would require alterations to the basic laws of physics! Maybe it's time to rethink this?"
Whilst there is no perfect solution to the climate crisis, as hosts of COP 26 this winter, we British really ought to be leading the way when it comes to the most sustainable building material available – timber. The creativity and vision that architects possess should enable them to overcome the connotations of "old fashioned, traditional timber designs" to create modern, sleek, stylish and contemporary buildings that are also kind to the environment and more pleasant to live in.