Project description
Florence Boot Hall is an historic 1920s accommodation block at the University of Nottingham that has undergone a £10.2m refurbishment by Clegg Construction to provide the highest levels of comfort and technology for students. With its historical links to Boots the Chemist, having been funded by Florence Boot, it was vital to retain the heritage of the building and this included replacing the uPVC windows with quality bespoke timber windows from George Barnsdale.
Why replace uPVC windows?
The existing uPVC windows were only 15-20 years old but were degrading, looking untidy and not meeting the thermal and acoustic performance levels required, nor were they respectful of the 1920s aesthetic.
When you consider the original timber windows probably lasted 70/80 years and the uPVC ones barely 20 years, there really is no argument that plastic will outlast quality engineered timber any more.

Steve Dixon, Director, George Barnsdale
Following discussions with the architect and client, George Barnsdale supplied and installed a sample wooden sliding sash window to demonstrate the level of performance and aesthetic quality of its fenestration products. Reassured that the products suited the needs of the project, a total of 380 new triple glazed FSC certified softwood timber windows with hardwood cills including spiral balance sash and flush casement windows were installed. There were also a number of french doors with arched fanlights in the common room area as well as flush outward opening entrance doors elsewhere in the building. The team also supplied matching timber louvre doors for plant areas.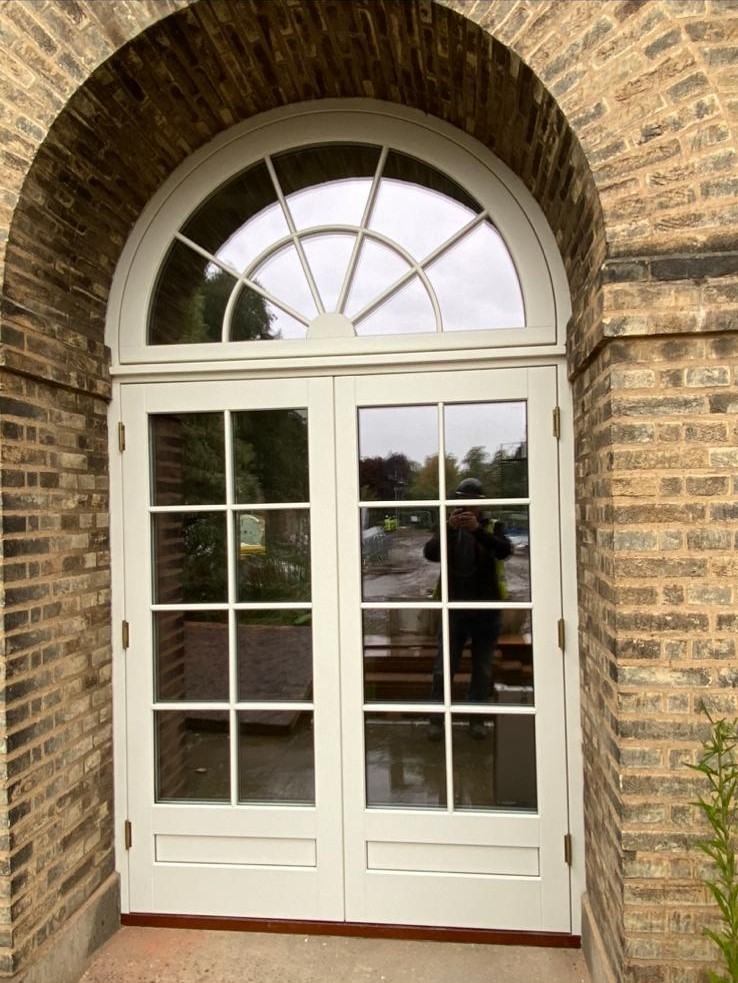 Using George Barnsdale's unique four stage paint process, the sliding sash windows were finished in pure white RAL 9010 with elegant ovolo astragal bars and polished brass hardware.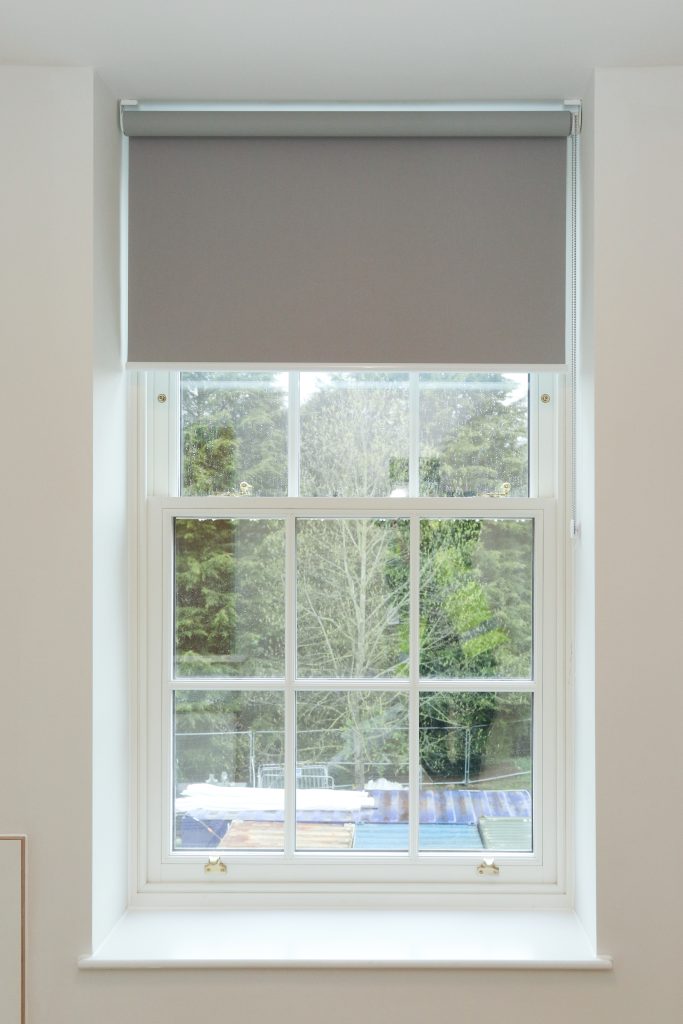 Some of the casement windows fitted into the later 1970s extension are finished in a timeless grey brown RAL 8019 with original gold collection hardware. All windows throughout are glazed in triple glazing.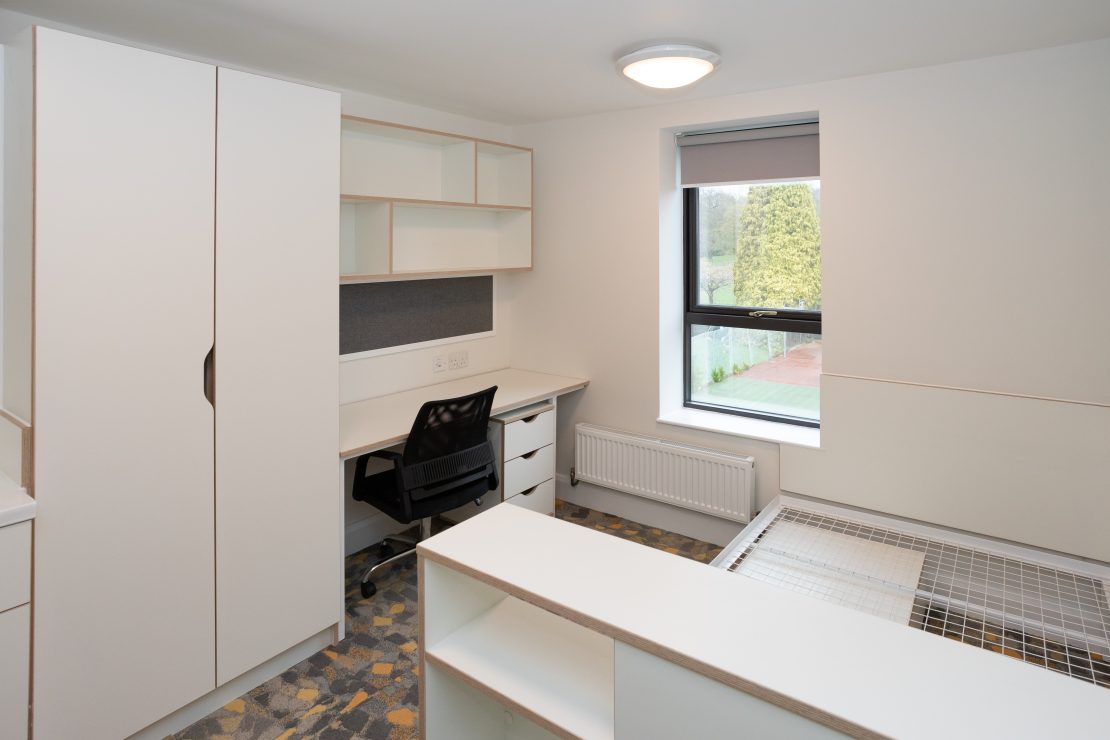 What are the challenges of installing triple glazed timber windows into an old building?
The depth of the window frames required to house high performance triple glazed deep section windows can create issues with the existing opening sizes which were originally designed for single glazed windows. George Barnsdale adapted their designs by using extended linings and adapting the sections to allow for this. By extending the external jamb linings, the spiral balance windows were made to more closely replicate traditional box sash windows typical of when the building was originally constructed.
Installation
As part of the company's contract service, Ian Wright, George Barnsdale's Commercial Project Manager was on site from the start of the project with the surveying team and on a weekly basis during installation. There was a delay at the start due to the discovery of asbestos which required removal by a specialist team and a safety report obtaining but once work got started, everything went smoothly.
George Barnsdale has been an absolute pleasure to work with, Ian Wright's professionalism is second to none.

David Ross, Project Manager, Clegg Construction
How do you improve energy efficiency in an old building, other than timber windows?
In order to help it achieve its target of a very good BREEAM rating and the University's target to be carbon neutral by 2040, the team at Clegg Construction have implemented a raft of energy efficient measures in this fabric first refurbishment. This includes air source heat pumps, a building management system, LED lighting and new George Barnsdale triple glazed timber windows and doors. All of this has been achieved whilst respecting the building's heritage. The building has since been nominated for an East Midlands Energy Efficiency award, with triple glazed windows being one of the main contributory factors.
All in all, the project has been a great success and is ready for students to move into in September 2023.