January 15, 2018
What would your partner say if they came home to be greeted by a set of new purple doors? What would you say if it was you arriving home to be greeted by a haze of purple?
Last month Pantone announced the colour of 2018 as ultraviolet – basically, a bright purple. Describing it as inventive and imaginative. "Ultra Violet lights the way to what is yet to come."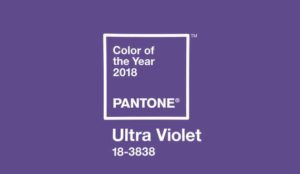 The actual pantone colour is 18-3838 and is described as a 'dramatically provocative and thoughtful' shade of purple. It "communicates originality, ingenuity and visionary thinking".
Ultra Violet is not just thought to be the colour associated with harmful rays from the sun that cause sunburn, but linked to the wider mysteries of the cosmos.
Historically, Ultra Violet has had a mystical quality attached to it. Spiritually, the colour is often associated with practices such as mindfulness or head space.
Purples have been symbolic of counterculture, unconventionality and artistic brilliance since the late great musical icons; Prince, David Bowie, and Jimi Hendrix brought them to prevalence.
The colour boffins from the institute who look into trends from not just fashion, but lifestyle and beauty agreed that Ultra Violet was the colour for 2018 and we have already seen orders for purple doors and windows increase.
We recently manufactured, and installed this set of purple patio doors into a property in the UK and have had more orders follow:
If the pantone colour of the year is not for you and purple doors are not your thing, then here at George Barnsdale we are able to match to any physical sample or to an existing RAL, Natural Colour System or British Standard colour reference.
Previous Pantone Colour of the year winners include; Marsala, Emerald, Tangerine Tango and Turquoise, so we already can not wait to see what is announced as the colour of 2019.

Your choice of front door colours and window selection says a lot about you, read our blog entitled what is your front door saying about you? to see what type of homeowner you are.