December 13, 2017
When it comes to Christmas and getting that warm Christmassy feeling, it all starts with the decs. More importantly though, it all begins with your own front door. Have you forgotten to decorate your door with a Christmas wreath?
The once modest wreath of green leaves, has become a bit of a fashion statement in recent years and is now seen as possibly the most important part of the Christmas decorations puzzle.
From a handmade, self-foraged festive offering to a tartan clad Christmas cluster from Harrods, your wreath is the first glimpse into your life and what is inside your house. Therefore, make sure to give your visitors a warm festive welcome with a wreath that will bring cheer to the unhappiest humbug this Christmas.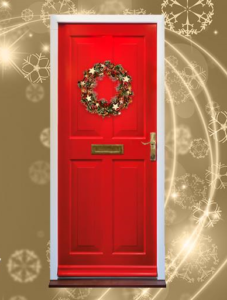 Whether you are buying a Christmas wreath for your home, or making your own, we have got a guide to how to get the right decor for your door.
Homemade:
Creating your own Christmas wreath has never been so easy, so isn't it about time we started thinking about how to make our front doors just as festive as the rest of the house?
From traditional and simple door designs to something a little more statement, homemade Christmas wreath can cost next to nothing, depending on what you have got hanging about the house, or even growing in the garden.
Make the most out of your moss
No, we've not gone crazy, a magnificent wreath can come from a mossy mess. All you need is a wire hanger and some moss, both can be bought easily, or found in or around your home!
Start by moulding your hanger into a circle, or if you're feeling a bit funkier, a heart, or any other shape of your persuasion. Then start gathering the moss, mushing it into a sausage shape and wrapping it around the wire frame with binding wire, until you have finished the circumference of your shape. Experts suggest that you should use a stringy sphagnum moss, rather than the moss which grows on walls.
Once you have a seamless shaped wreath, cut the ends and bind together. Although as a first timer, your mossy wreath may look fab already, you can now really start to make the magic happen.
Go green
At this time of year, you should have a few evergreens growing through the bleak conditions, take a look and select a few of your favourites to wrap round your wreath. We suggest plants such as; ivy, holly, rosemary or eucalyptus, but you may have more.
What have you got? You can pretty much use any evergreen, so select your branch of choice and get cutting. You will need to hack back about a foot of foliage, you can then select smaller shoots to wrap round your wreath. Although you may be surprised at how much greenery you will actually need to complete your garland.
Lay the selections facing in the same direction and attach them with some binding wire. Feel free to chop of any protruding parts and when you are happy you can start to decorate with the décor of your choosing.
Decorating your homemade Christmas wreath again shouldn't cost the earth. Check what is in your 'crafty cupboard', garden or even fruit bowl first.
A fruity number
That is correct, check your fruit bowl for any fruits you can spare for the Christmas wreath design. Oranges, lemons and limes can be dried and transformed into a trendy timber door transformer.
What is more, the drying process will leave your home smelling of the most magical festive location.
Simply slice the selection of fruits into the pattern you would like and pop them in the oven on the lowest setting for a few hours, approximately four for lemons and limes.
Now attach the fruit to some wire or an old hanger and form into the shape you desire. This can now be used to decorate your wreath.
You will need to attach the wire through the moss and back on itself to ensure no sharp wires are left on show, clip of any excess wire for extra safety.
Further décor
You might be perfectly happy with your crafty creation at this stage, and the beauty of making your own is that you can sculpt to suit your own tastes.
But if you are looking for some extra elaborations, then have a search for pine cones, flowers, crab apples and alternative finishing's that you may have lying around and attach as above.
Finished with a flourish
Again, often less is more, but if you feel the need to spruce it up with a bow or something else, then let your mind go crazy. Just ensure you leave space at the bottom or in the middle for your finishing touches and attach with wire or glue.
High Street help
Your local craft store, garden centre and supermarket may be able to help provide a cheap resource for any of the ingredients that you may be missing, so before you start, check what you have already, then compile a list of any additional items you may require.
Feeling a bit more flamboyant?
Think you are a bit more advanced than this? Well how about this Magical Village Wreath? This beautiful twist on a classic wreath, adorned with miniature houses and evergreen trees is like a touch of the Alps in your very own home and should keep you occupied for a few hours or so.

We found it here on Martha Stewart.
Alternatively, what about this corking idea from Alexandra's Kitchen? Perfect for any wine lover it is also a great way to use up all those champagne corks that you collect over the year (or two). For full instructions on how it was made click here.
Ready made
Not all of us have the time, patience or even skill to create a Christmas wreath that we would be confident putting on display, so luckily there are plenty of retailers cashing in on this essential Christmas must.
Again, the choices are endless and the purchase can be in line with your own budget, it does not have to cost any more than you are prepared to pay.
Lidl for example sell plain wreaths for just £5, or on the other end of the spectrum, wreaths are going for in excess of £2,500, but here are a selection of four of our favourites and where you can buy them:
Whether you make your own or purchase one this year, at Christmas, your front door is nothing without a cheerful wreath. To double the fun, why not try dressing your front door with two wreaths instead of one, to double up on the festive spirit.
And if it turns out that your Christmas wreath looks even better than your front door, why not take a look at our selection of front doors for a bit of extra home decoration inspiration.