How are George Barnsdale helping to make Grosvenor Square London's premier residential address again?
Grosvenor Square is set to be London's premier residential location yet again and George Barnsdale are helping ensure the properties are in keeping with the regal reputation.
Located in the heart of Mayfair, Grosvenor Square was once home to the hierarchy, being the place to be for the UK gentry, with many Lords and Ladies living here.
Post second world war, this changed though, with many of the elegant Georgian townhouses being converted into offices, embassies, flats and for other business use.
However, Grosvenor Square is returning to its former residential glory, as it is poised to become London's most sort after residential address yet again and George Barnsdale are at the heart of the reformation.
The central garden is the centrepiece of the square and is back in the hands of the Grosvenor Estate. Encompassing the garden square there are a number of exciting projects taking place. Grosvenor Square will soon be home to some of the world's highest end residences.
To the North of the garden you will find the very impressive looking first purely residential project for Four Seasons at 20 Grosvenor Square, developed by Finchatton.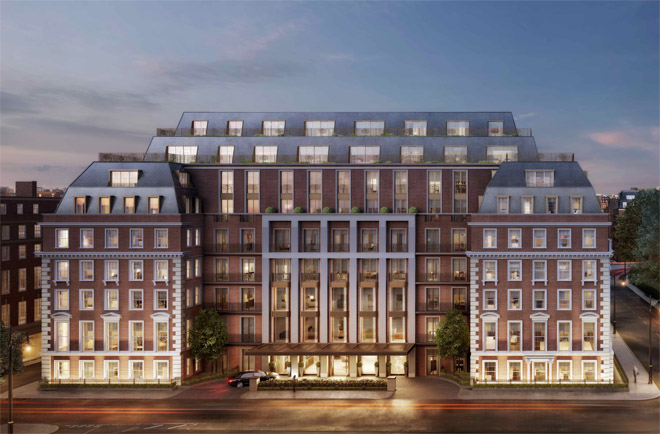 Twenty Grosvenor Square is a residence like no other, where style, heritage and the highest quality service meet to create a unique lifestyle. Residences range from 1 to 5-bedroom flats and are scheduled to be completed later this year.
George Barnsdale have already manufactured 216 timber windows and doors for the project and have now moved on to neighbouring 1 Grosvenor Square.
A glorious walk through the park to the East side of the square will take you to the former US Embassy and in later years, the Canadian High Commission building, 1 Grosvenor Square. However, the property is now in the hands of Lodha UK, who with the help of Mace are converting the property into an ultra luxurious residential scheme.
Comprising of 39 apartments and five bespoke duplexes, the location also offers state of the art amenities and luxury concierge facilities. Again, George Barnsdale have been chosen on the strength and quality of the products we developed for the initial project at 20 Grosvenor Square to supply the timber windows and doors for the scheme.
Both the projects show that the square is on the up and will soon be returning to its former glory, as the premier location for the London aristocrats and nobility and with George Barnsdale right at the heart of both projects, we are hoping to leave our mark on the London scene.
The developments are also less than a mile from a major retail project we worked on in Mayfair. When we designed and manufactured 37 box and spiral balanced sash windows for the Chanel Flagship store on Bond Street, showing that George Barnsdale are just as adept as manufacturing for luxury residencies as high end retail developments.