April 13, 2018
George Barnsdale reviews on Trust Pilot over the last 6 months have given the company a rating of great, with 100% of reviewers scoring their experience with the company as excellent.
Since the turn of the year, George Barnsdale has received three 5 star reviews on the popular online community site, which enables customers to share their experiences with a business or company in the comfort and relative safety of their own home, without a pushy salesman forcing them to tick a box under duress.
Repeat customer Michael Eltringham took to the site to share his experience and stated that George Barnsdale were "superb". His George Barnsdale review,  published 23 February 2018 said:
This is the second time we have used George Barnsdale windows, (in two separate homes!) First time we had them fitted in 2012 so enjoyed them for 5 years before moving, and we had an excellent experience with the installation and the quality of the windows, and the longevity of the product. They still looked as new when we moved last year, and in fact were a major selling point of the house when it went on the market.
So… we have chosen GB windows and door when we needed replacements in the house we recently moved to. Once again the fitting team was superb, all the windows fitted perfectly, quality excellent and we were particularly impressed by the made to measure door. We cannot rate both GB and the local installation team highly enough…
George Barnsdale reviews are vital to the company in many ways. Positive examples show that they are helping make the lives of their customers better and the sporadic negative ones help to improve manufacturing processes and update the customer service provided.
George Barnsdale are continuously developing methods to improve and they understand that before taking on any expense such as that of new windows and doors, customers are going to want to do a bit of research for themselves and want to find some George Barnsdale reviews from other customers.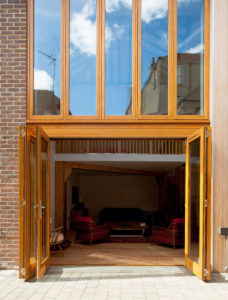 They embrace this form of information sharing and are confident again that customers would be comfortable in recommending their work and sharing their positive experiences of working with George Barnsdale.
Reviews are from real people and are a real recognition of a brand or service and that is why likeminded customers will listen. Researching online reviews is becoming one of the most important parts of the purchase process and reviews are not just important when shopping for holidays, hotels and insurance.
Many companies pay thousands on advertising, but one positive recommendation from a happy customer can be more meaningful than millions spent on a talking animal or celebrity spokesman appearing in the ad break. So George Barnsdale are actively promoting the fact that customers can share their thoughts on review sites such as Trust Pilot.
If you are looking for George Barnsdale reviews then you can find them on the below sites:
Trust Pilot reviews of George Barnsdale
Houzz Review of George Barnsdale
If you have previously experienced products and services from George Barnsdale then please take the time to share your own George Barnsdale reviews on the above sites.