August 8, 2022
The current energy price rises are a worry for everyone, homeowners and businesses alike. In the domestic market, average bills are expected to rise by £1500 a year, taking typical bills to £3240 a year according to Martin Lewis. Whilst the Government has provided some support, there is no doubt that we will all be worse off this winter, with those living in older, poorly insulated properties paying the highest prices.
Most people will be looking to reduce consumption, putting on the heating less frequently, for shorter lengths of time and at a lower temperature. Wrapping up and trying to keep us much heat as possible in the home is something we will all need to do. There is even talk of heat banks being required like food banks for the most needy, libraries and community centres where people can go to keep warm. It has never been more important to insulate homes and reduce energy consumption and replacing old draughty windows and doors is one of the most effective ways to do this.
Should I replace my draughty windows?
Typically 18% of heat lost in our homes occurs through windows, those with single glazing or poorly fitted double glazing will be paying the highest prices to keep warm this winter. There is no question that replacing windows and doors will make a huge difference to heat retention and will help to save money.
Given that an average gas and electricity bill combined is likely to run into thousands – even a small improvement in thermal and weather performance will make a big difference to your bills and save money.

Steve Dixon, Director George Barnsdale
Whilst the majority of homes already have double glazing in the UK, people living in period properties in conservation areas or in listed properties have historically been prevented from having them. Double glazing was not deemed to be in keeping with the original character of the property.
What are the alternatives to standard double glazing?
Narrow insulated double glazing units are available for conservation properties which look very similar to single glazing from a distance. These were used on the Chanel building in Mayfair and approved by the local planning authority there. It is always essential to check with your own planning department prior to making any changes like this, but more and more local authorities are recognising the need to balance conservation with the environmental and financial impacts of retaining everything original.
Narrow IGUs can be installed into frames designed to match the original complete with putty and authentic beading. In terms of U value performance, they are not the highest performing double glazed windows but they make a huge difference in properties and can help to significantly reduce heat loss. These have often been accepted by planners for homes that are in conservation areas, however listed buildings are often not able to use these. Always check with your planning department.
If you are unable to have narrow double glazing, the latest technology in glazing means it is possible to have a single glazed window that performs as well if not better than triple glazing using vacuum glazing. This has revolutionised the market and could mean that period properties have the potential to finally overcome the age old problem of leaky, draughty windows and doors and the chance to live in homes with thermal efficiencies to rival more modern properties. Of course, in the long run, this will also save money on energy bills.
Timber, uPVC or aluminium?
When it comes to choice of materials, timber is the most thermally efficient material compared with uPVC, steel and aluminium. It is also the most environmentally friendly choice. The concerns about durability have been addressed with modern engineered timber windows, most of which that are made to British Woodworking Federation standards will last a minimum of 60 years with minimal maintenance. The first recoat is unlikely to be required for at least ten years in most locations. George Barnsdale has many examples of products twice this age that have not yet required repainting. Read our King's Cross case study for an example of this.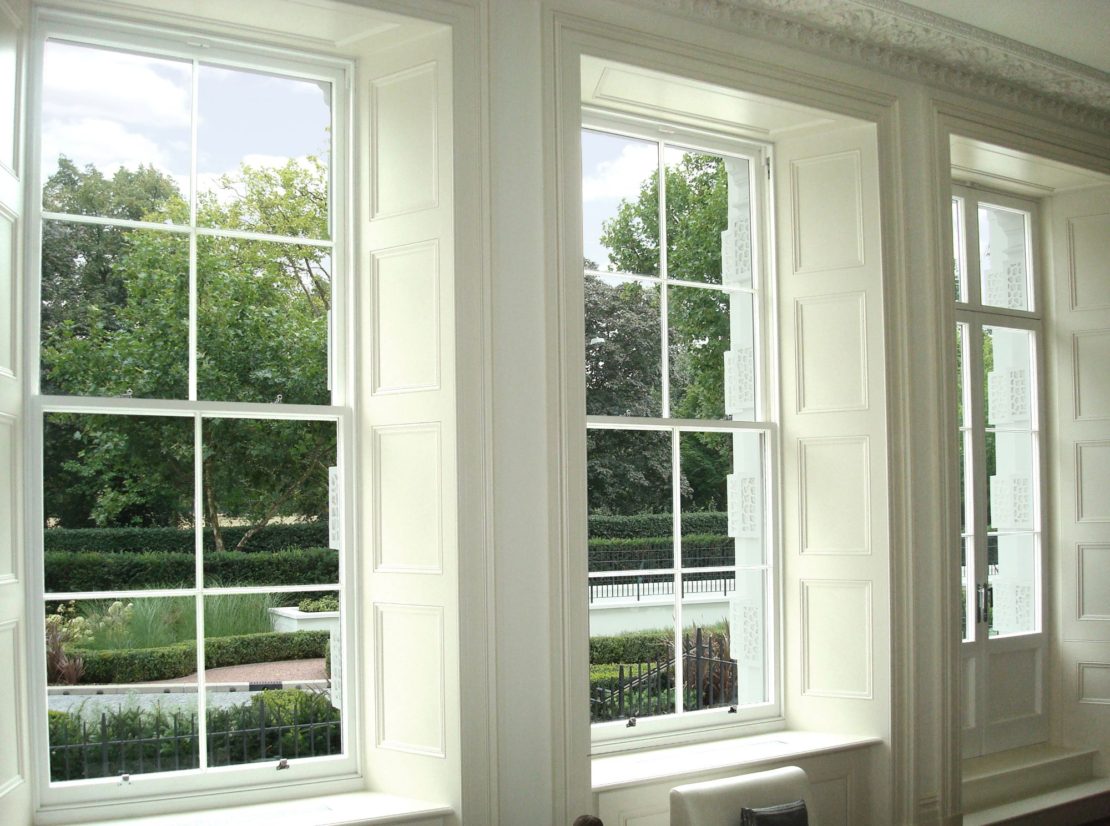 If you are looking to keep your heating bills as low as possibleand save money, replacing windows is one of the best ways to do this.