August 4, 2016
This month sees the launch of our new hardware collections for our timber windows and doors from furniture such as window handles to letter plates.
The look and feel of any window is influenced by the choice of furniture. For this reason, our handles are grouped together into collections to provide a consistent finish across our range of products.
The Collections

The Original Collection
Featuring simple ergonomic design, the Original Collection has been designed to seamlessly integrate into a range of buildings and styles.

The Classic Collection
Elegant in appearance with a high quality finish, the Classic Collection has an understated beauty that suits any style of property.
The Foundry Collection
Manufactured using traditional wrought iron methods, the Foundry Collection provides a rustic appearance that makes it ideally suited to cottages and farmhouses.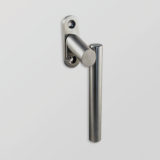 The Modern Collection
Providing a sleek, understated finish, the Modern Collection is machined from marine grade stainless steel and is our most contemporary offering.

The Patio Collection
Attractive in appearance, our patio handles have been specially designed to allow simple operation of our patio doorsets, as these can have multiple features such as tilting or nights vents.
The Sash Collection
For our sliding sash windows we have an elegant furniture collection that provides simple, effortless operation and high security. The design and finish options allow a perfect match with all of our furniture collections.
As part of our continual product development and through feedback from installers and consumers, we decided to refresh our standard hardware offerings. Focusing on the key elements of aesthetics, quality, security and performance the chosen products will be as enduring as they are beautiful.
Download the Traditional Range Brochure to see the full extent of our new hardware collections.