George Barnsdale win Lincolnshire Fire and Rescue RDS Employer of the Year Award!
Donington based timber products manufacturer, George Barnsdale have been honoured with the accolade of Lincolnshire Fire and Rescue RDS Employer of the Year for 2018!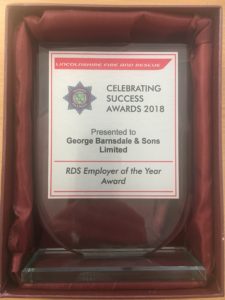 Established in 1974 the Lincolnshire Fire and Rescue Service was set up to service the statutory fire and rescue needs of the county. Lincolnshire is the second largest county in England and the service has plenty of area to cover.
The area has one of the highest road traffic collision rates in the entire UK and the area is liable to flooding in addition to the usual core requirements of any fire service.
In addition to these duties, the Lincolnshire Fire and Rescue service works in partnership with the East Midlands Ambulance Service to assist with the provision of emergency medical care to parts of the county.
Lincolnshire Fire and Rescue has 38 fire stations within the county and these are ran by a mix of 9 wholetime and 29 retained duty systems. Barring a few major towns and the city of Lincoln, the majority of Lincolnshire is covered by retained duty staff.
Operating from the Donington Fire Station, employees from George Barnsdale have been supporting the Lincolnshire Fire and Rescue Service since it set up in 1974 and have been helping assist the local fire crew since before then.
The wooden window and door manufacturers currently have 4 employees, including Adam and Shawn (pictured below) working on call for the fire and rescue service, who regularly drop everything to assist with the duties of the local fire and rescue service.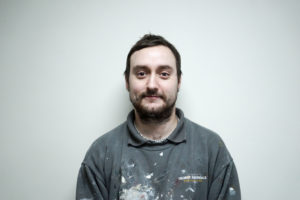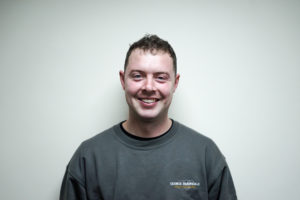 Winning the Lincolnshire Fire and Rescue RDS Employer of the Year Award for 2018 is a real honour for the Lincolnshire based company and a true recognition of the great work that their staff do to assist the counties emergency services.
It is not the first time George Barnsdale have won the award, as they have won the prestigious accolade on numerous occasions since it was first issued by the Lincolnshire Fire and Rescue Service, with the last time being in 2015.
Our guarantees
Our industry leading manufacturer backed guarantees ensure that our windows and doors will last for many years.
Let's get started...
Whether you are looking for information or doing some serious research for your window replacement project, getting in touch is always the first step. Here's a few suggestions to get you started...
Download our brochure
Take our comprehensive range of timber windows and doors away with you.
Download brochure
Complete our enquiry form
Fill in a few details about yourself and we'll get straight back to you.
Complete enquiry form
Or simply get in touch
Our friendly and professional sales team are here to answer your questions.