August 22, 2018
When it comes to casement windows there are 2 main types of window you can choose from, flush and stormproof. Flush casement windows, as the name would suggest, sit flush within the frame. However, stormproof casement windows, where the window, or sash actually does not go fully into the frame and sits proud.
Stormproof casement windows are also known as lipped casements, as the lip prevents the window from going further into the frame as with a flush one.
This simple yet effective design adds extra protection against unpredictable and wetter weather conditions, hence the name 'stormproof'.
Due to the inclement weather of the UK, stormproof casement windows have been a very popular choice of window since their introduction in the 1950's and have overtaken the traditional flush casement in popularity. We design our stormproof windows to provide the very best weatherproof performance.
As casement windows were the first to be introduced to the UK, both our flush and stormproof windows are manufactured to capture the timeless aesthetic qualities of traditional casement windows, but also to provide excellent thermal, acoustic and security performance.
Our Stormproof casement is still the best performing timber window on the market and comes with the best security features. Designed to meet the challenging PAS 24/Part Q standards.
Multi-point locking ensures we provide the highest degree of security, whilst creating a snug, weatherproof fit and ensuring a long life for the window.
For traditional detailing we can incorporate astragal bars to the window design. as standard on the stormproof casement windows, external bars are manufactured from Accoya and fixed into the sash, providing lasting performance.
Our stormproof casement windows are ideal for both new build and replacement projects. We used the stormproof design to good effect, when we manufactured windows for St Paul's Church in Chipperfield.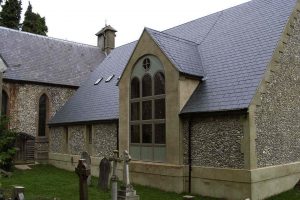 and Littlecote House
Whether you prefer the stormproof or the flush casement window design, at George Barnsdale we can assure you that both versions that we manufacture are designed to the highest spec and are customisable to suit your exact needs and requirements.
If you would like to read more about our flush casement and how they compare to the stormproof ones then read what flush casement windows are?